Readers Question: How can I find data on Historical interest rates nominal and real

Graph of Interest rates since 1979 – 2011

Base Rates and Commercial Rates
This graph shows how commercial banks do not necessarily follow the base rate changes. The very low interest rates of 2009, gave many commercial banks an opportunity to increase their profit margins and improve their balance sheets. In reality, the banks were short of cash and so kept their standard variable rates higher than the Bank of England base rate.
Real Interest rates
Real Interest rates take into account inflation.
Real interest rate = nominal interest rate – inflation.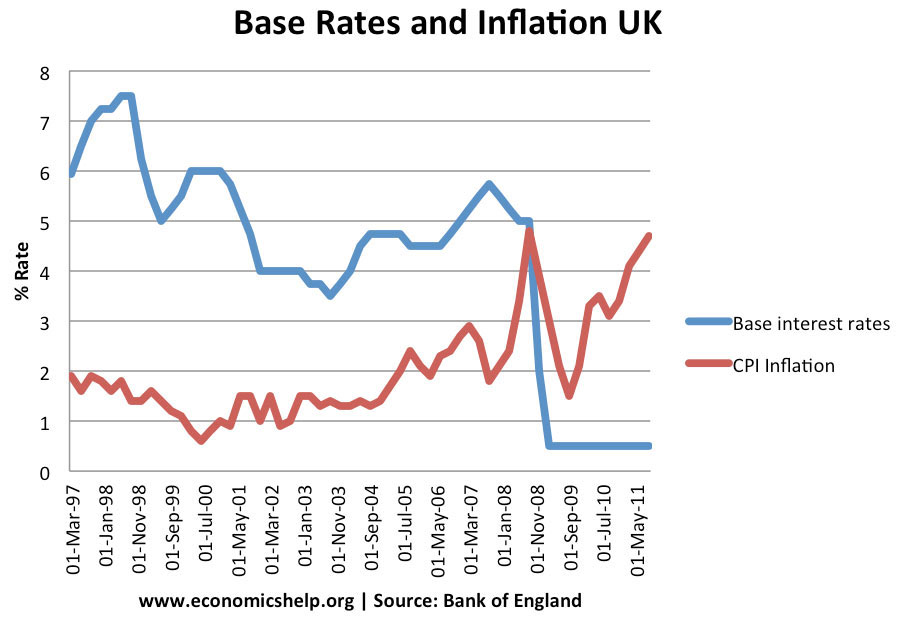 In the period of economic expansion from 1997 – 2007, base rates were significantly higher than CPI inflation. This is good news for savers because it means that the rate of return from saving in a bank is greater than the amount money reduces in value due to inflation.
After the credit crunch, there was the unusual situation of base rates being lower than inflation, leading to a negative real interest rate.
Base rates were cut to 0.5% in March 2007, this remains a record low for UK base rates.
Economic Impact of Interest Rates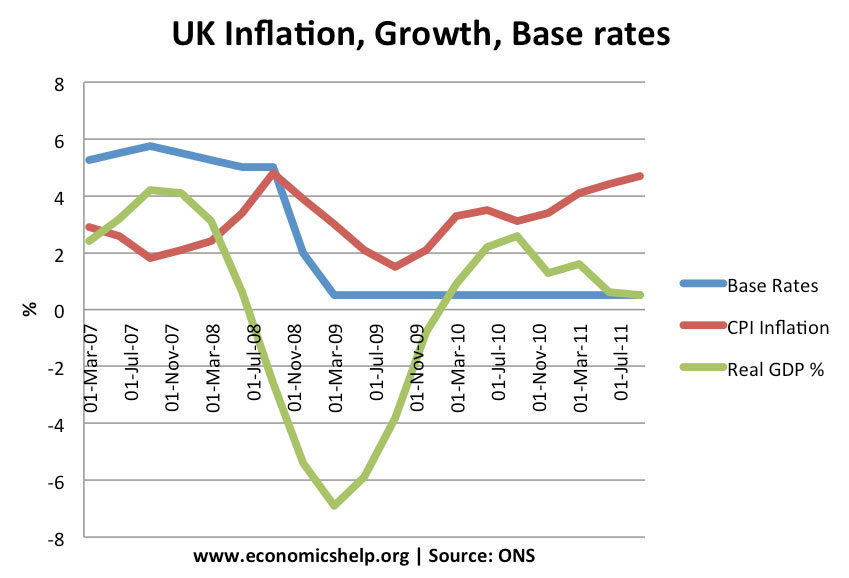 The Bank of England set interest rates to try and meet the government's inflation target of CPI = 2% +/-1. If inflation is above target, the Bank are likely to increase interest rates to reduce the growth of demand and therefore reduce demand-pull inflation.
However, as well as targeting low inflation, the Bank of England is also concerned about economic growth and unemployment. If the Bank of England fear the economy will contract and enter into a recession, they will want to keep interest rates low to boost spending and economic growth.
See also: The Economic effect of interest rates at economicshelp.org
Other links for Info on Past interest rate trends
The Bank of England provide detailed interest rates since 1963 [B of E link]
e.g. Official interest rates since 1975 at B of E
Interest rates since 1991 at Guardian
International interest rates
US Interest Rates