When my great grandma bought a house in 1911, the price of the house was £600. This was pretty much what it would have cost to build from scratch.
Today the average house price in the UK is closer to £200,000.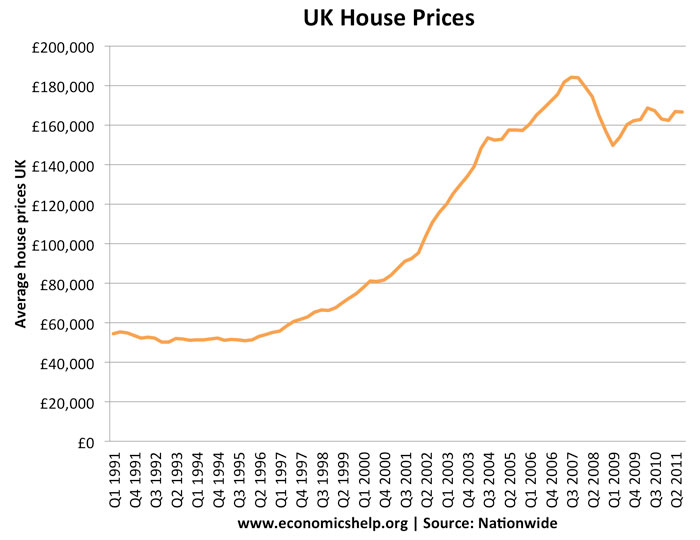 Why are house prices so expensive?
1. Demand is greater than Supply.
A very simple economic truth: if demand increases faster than supply then prices will rise. This has, despite some short term fluctuations, been occurring since the end of the Second world war. It does beg the question why is demand increasing faster than supply.
2. Constraints on House Building.
Despite frequent talk of the necessity of building houses, we have a reluctance to build houses. House building is at its lowest level since the second world war. About 135,000 are being built a year. This is much less than the 250,000 the government feel is necessary to keep pace with a rising population. There are many constraints on the building of houses:

In the most popular areas, there is a shortage of supply. It is difficult to find new land around greater London
Environmental cost. The British have a strong attachment to preserving "greenbelt land" Many areas are protected from further housing development.
Not In My back Yard. People are usually in favour of more homes being built, as long as they are not in their local area. Increasing supply of houses leads to more congestion, crowded amenities and loss of greenbelt land.
Vested interests perhaps most importantly increased supply reduces the value of your existing home. Therefore, existing homeowners have a vested interest in keeping the supply as low as possible in their area.
Lack of Social Housing. Since Mrs Thatcher encouraged the sale of council housing, the number of new social housing (a euphemism for council housing) has been very low.

3. Rising Population
The population of the UK has been rising, partly due to immigration, this increases the demand of housing
4. Rising number of households.
The number of households has been increasing faster than the population. This is because social factors have decreased the average number of people in a household. For example, divorce rates, and the fact people get married later in life, have increased the number of single people. There are more old people living alone.
5. Rising Incomes.
Incomes have risen by an average of 2.5% in real terms since the war. Furthermore people are willing to spend an increased % of their income on housing. This is because housing is seen as the best investment in the UK.
6. New Mortgages
Rising house prices have not deterred people from desiring to buy a house. In the boom years, higher prices merely led to people borrowing higher income multiples than before. The credit crunch led to a severe curtailing of mortgage availability. Tighter mortgage restrictions may yet diminish growth in house prices. Yet, many people are still benefiting from previous laxness in mortgage lending.
7. Parents helping their children.
Another reason that demand hasn't fallen is that parents are using their equity gains to help their children get on the property ladder. See Parents and mortgages
8. Speculation
Despite the volatile nature of the housing market, housing has increasingly been seen as a good investment. The returns on buying a house have consistently outperformed the stock market. This has encouraged a new generation of buy to let investors, this has helped to increase demand further. In London, there has been a lot of demand from foreign nationals such as Russians and Arabs. Some argue this speculative increase in demand means the high house prices are unsustainable and are liable to fall. Why House prices are set to fall
9. Relatively Low Interest rates.


Since 1992 interest rates in the UK have fallen, making the cost of getting a mortgage relatively lower.
10. Renting is also expensive.
The alternative to buying a house is renting. But, the cost of renting has also risen faster than incomes. If you are paying £800 a month, it make sense to try and get a mortgage where you will be paying £900 a month, even if it means borrowing upto 6 or 7 times your income. The increased price of renting reflects the fundamental imbalance in demand and supply. It is true that the price of housing is now rising faster than renting, but it still makes economic sense to buy rather than rent. This means people are increasingly looking towards unconventional mortgages to help them buy a house.